No, I'm not trying to fool you with the title and yes, I know it is June already but ever since I landed on this side of 30 I've been groggy and dull brained. My 'new post up every Saturday' intention has gone a bit haywire since Ramadan, exams, and Doha's heat have frazzled the last surviving cells of my teacher-brain: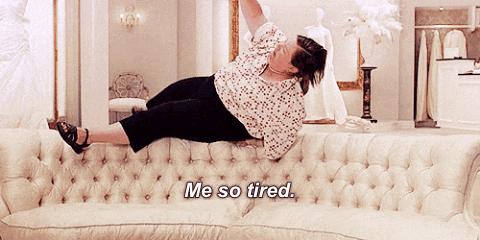 I woke up this morning to a mumbling spouse:
'Did you put a new blog up today?'
'Eh?'
'New blog. Liked it. I clicked like on it.'
I wanted to thwack him and say, 'It's my day off: shut your cake hole and go to sleep,' but I was fasting so gotta be kind, and he occasionally cooks for me so gotta be extra kind, and most important of all his comment prompted guilt. I genuinely couldn't remember how long it had been since I'd shared the last post.
Anyway, I have refrained from Ramadan posts this month because A) I feel like I already wrote a lot of Ramadan-related posts and right now I have nothing else to publicly share, B) I want to focus on quality content this year and not drivel I myself wouldn't read and C) this Ramadan has been the hardest one I've had out here in Qatar in terms of how much I've had to juggle with work and home. I anticipate it'll get harder as it moves further back into the earlier academic terms. My sympathy goes out to those who are doing finals this year or will be sitting them in the upcoming years.
Working while fasting is hard whatever field you're in but if you're a non-teacher, chances are you don't have to fend off 101 questions that test your intellect and thinking-ability. Like being asked haram questions: 'Do you want to know about the nipple conspiracy theory? It is 'approved' by scientific research.' Or being interrupted in the middle of a lesson at 10 a.m. with: 'Do you know when the adhan will sound for salat-ul-Maghrib?' which is just a long-winded, 'waste her time' way of asking 'When is iftar?'
Even though I am mentally and physically exhausted, dying for a cup of coffee (which I just spelt as 'caffee' thank you very much), and too drained to even bother counting down to the last school day, I still have so much to be thankful for:
Experiencing Ramadan in a Muslim country: the shorter working hours, the whole atmosphere is something I'd choose any day over fasting in the UK.
I keed, I keed about the 101 questions: I really love the comedy that comes with teaching. There is never a boring or uneventful day when you work with children, my kids are the reason I feel so young at heart and I wouldn't trade any of it for a different career.
If I was feeling a little grumpy or exhausted before, I am now feeling all kinds of gratitude after the MoE announced our Eid holidays. We have a whole 11 days off for Eid; definitely prefer this to that awkward conversation with your boss about when you may or may not need a day off for Eid.
I've felt awfully nostalgic for those winter Ramadans when I was in high school and the only chores I had to do was deliver trays of food to neighbours up and down and across the street, and my only concern was also, 'When is Salat-tul-Maghrib?'
Alhamdullilah for having lived for this many Ramadans and may Allah bless us all with many more, ameen.
How has your Ramadan been this year? By the way, has anyone else still not figured out their Eid outfit – it can't just be me, right?
— * —
Did you know these 'gratitude posts' are a monthly malarkey?
You can read the rest here: Gratitude Corner.