It's Easter hols which means a break from school. By that, I mean a break from online teaching as well as the school building itself (unlike other institutions, my colleagues and I have been working on-site.)
Normally, at this point of the academic year, I'm soooooo ready to see the backs of my students as they go study leave.
Normally, by this time, I'm also sick with a bug because I've worked myself silly. This is usually the home run where you exert your last efforts, then sit back and pray your kids remember it all in the exam so your combined hard work pays off.
Normally, I'm excited about the Year 11 gain-time that comes afterwards, and so the countdown to summer begins…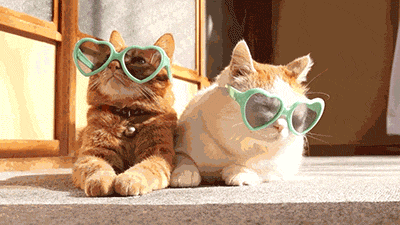 But not this year.
A lot of things have been on my mind this past week. I can't seem to string a simple sentence together so apologies if my thoughts below seem jumbled and pessimistic – hoping the cat gifs will lighten the mood, though.
I'm deeply saddened that the nicest Year 11 cohort I have ever known, the ones we had such high hopes for, are going through such a shitty time with their cancelled exams and the uncertainty surrounding what's going to happen next. I'm gutted they won't have a leaver's assembly or prom or graduation because if anyone deserved a big send-off, it was this cohort. Before breaking up for the summer hols, it's become a tradition to order pizza, have PS4 marathons, and engage in all kinds of silliness. But we won't be able to do any of that now.
In fact, the last day of school for the kids was so unexpected, I didn't get to say goodbye and so many of my leavers will probably return to their home counties when the new academic year begins.
I am worried. Worried that me, my global colleagues, and educational institutions have been so preoccupied with continuing teaching that we have neglected other aspects of our students' well being…
The role of a teacher is so undervalued. Millions of kids worldwide rely on their teachers for not just an education, but pastoral care too.
Imagine being a teen or younger, and having your whole world turned upside down.
Imagine suddenly having to pick up additional burdens like cooking, cleaning, tutoring younger siblings with their online learning, babysitting…because your parents are still obligated to work.
Imagine if you depended on school meals to sustain you.
Imagine living in a toxic household.
Imagine not being able to see your friends or teachers, not being able to do your normal, every-day activities.
Then imagine worrying. Just like the adults around you, you're also bombarded with news and stories and you grapple with the fear of losing your loved ones to the virus…
It's not easy for the youth of today. And these young minds will make up our future workforce.
The more I plan my online lessons, the more I try to factor in the mental and emotional well-being of my students.
Last week, I talked to them. That's all. Not about work, not about exams or grades, but the random kind of chit-chat we'd normally have in the corridors or during break. We shared: memories of our time in school; funny stories about annoying siblings; our new routines; and joked about getting food poisoning when some of them said they'd taken up cooking and wanted to bring something in for us when school resumed…
Even though I am a teacher, if there's one piece of advice I'd like to share with parents, it is this:
Right now, the focus should not be education or exams. It should not be about your child completing however-many-hours-a-day of work. Rather, it's important to talk to your children, to listen, spend quality family time together etc, now more than ever before. It's about enforcing healthy routines, ensuring physical activity takes place and partaking in communication about your children's fears or feelings or even their boredom…
We should all bear in mind that whenever things return to normal, whatever the new normal might be, this period is going to have a long-lasting impact on us all. What would you like your children to take away from this?
***